The Golden Crossed Box Pleat Award for 2001
The time has slipped and gone and changed the situation.
NOW it is 2003 and every thing id changed as you will see if you look down this redone page. Please look .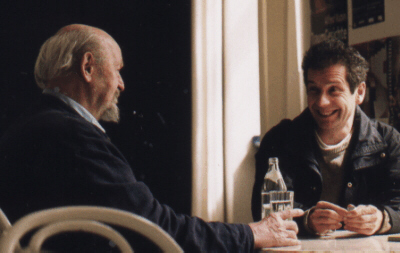 FReising 6.June 2001.
and a year later, when Vincent While Vincent and Thoki met again in cyberspace THOKI reminded him that he had to select the next person who should receive the Golden Crossed Box Pleat Award, and without hesitation Vincent said THE ORIGAMI ARTIST and his inovator in the
OSEPH WU for hishard work for the World of ORIGAMI and his outstanding innovation in the field of the fine art of paper folding.
The Award was supposed to be ill be given every 13th month on the 13th day of the month, time just slipped at a certain point and as hamlet and Kalmon said TIME IS OUT OF JOINT

Floderer 13. June 2002 will select the next operson and it will be awarded awarded to this person at the OROGAMI MEETING to be held at BAUHAUS DESSAU 21-24 AUFUST 2003.

BUT, AS HAMET SAID: TIME IS OUT OF JOINT.

Thoki Yenn has ordered a german goldsmith,THE SAFIRO GALLRI in FREISING to make 6 replica of the CBP in REAL GOLD 13x13 millimeter with a safety device on the back so it can usedf as a lapel pin.

Thoki YENN will give his reason why he has decided to give his time and his money in this way, at the ORIGAMI MEETING in August This YEAR 2003 at the BAUHAUS DESSAU IN GERMANY:

This beautiful Golden Crossed Box Pleat with its elegant inexactitude irrefutably proving that it is folded by the old Geezer's own hands, is the one that I the Great and Glorious Pesky Kalmon of the North as Curator of The Thoki Yenn Foundation is presenting to the French Crimp style Paper Folding Master Vincent Floderer, JOSEPH WU,and the four other persons that THOKI HAS SELECTED AS WORTHY RECEIVERS OF THE GOLDEN CROSSED BOX PLEAT AWARD
| | |
| --- | --- |
| Updated 15. march 2003 | |
| FastCounter by bCentral | |