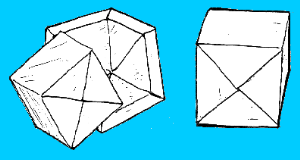 I decided it was easier to go 
the opposite way, folding a cube 
with half the volume of a given cube.
And for fun fold the other half volume 
as a trihedral wall from a square 
the size of the original Square.
The folding instructions for the 
TRI-HEDRAL WALL are not yet 
available, but have go at it anyway.
Have a look at the preparation of the 
Creasepattern

Have fun.